04. April 2018
R3Coms' EchoRing™ system is nominated for two awards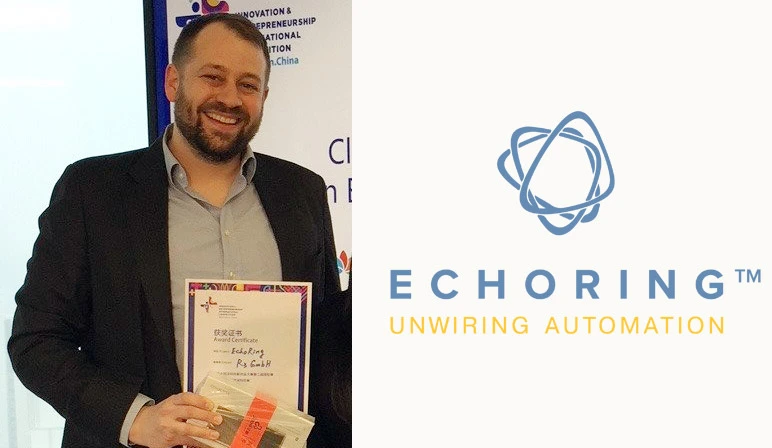 Dr. Mathias Bohge receives the first price of the IoT Specials European Finals of IEIC 2018 in Munich
This April is a special month for R3 Communications (R3Coms): from April 9th-12th, Managing Director Mathias Bohge will represent the company at the "2nd China (Shenzhen) Innovation & Entrepreneurship International Competition" (IEIC 2018), before it is decided on April 13th whether R3Coms will receive the German Innovation Award/Start-Up category.
Previously, Dr. Bohge won the European IoT Special Finals of the IEIC on March 19th. More than 140 IoT startups had applied for the finals, 18 of which were allowed to compete in front of the international jury. In the end, R3Coms convinced with the technical sophistication of their EchoRing™ wireless system solution, their business model and their customer portfolio.
At the grand finals in Shenzhen, a total of 90 finalists from around the world will compete with R3Coms for the title and a total of around 1.3 million euros in prize money. "I am very proud that EchoRing™ has been able to win the high-caliber European competition," says Mathias Bohge, commenting on the entry into the IEIC final. And his MD colleague Florian Bonanati adds: "Of course, China, especially in the context of China 2025, is a very important market for us, even though we are currently mainly involved in the German automation market." In this sense, the nomination for the German Innovation Award is an equally important milestone for the young company. Under the auspices of the Federal Ministry for Economic Affairs and Energy, it is decided on April 13th which of the three nominated startups will take the prize home.
About R3 Communications
The R3 – Reliable Realtime Radio Communications GmbH (R3Coms) has developed a worldwide unique software based technology. Now, it is possible to transform commercial off-the-shelf (COTS) wireless modules into highly reliable real-time wireless communication systems. Its performance characteristics fulfil the highest requirements of industrial IoT and Industrie 4.0 applications with respect to real-time (1ms latency) and availability (PERs up to 10-9). Furthermore, R3Coms also targets use cases in the field of automotive and aerospace. The founding team perfectly combines engineering and business expertise – including machine-to-machine communication professor James Gross – with more than 25 years ICT and more than 10 years of top management consulting experience. 2017, Creathor Venture und IBB Beteiligungsgesellschaft strengthened the financial situation of R3Coms investing a seven-digit amount.
www.r3coms.com
About IEIC 2018
The "2nd China (Shenzhen) Innovation & Entrepreneurship International Competition" (IEIC) is the largest and most influential startup convention in China. From April 8th - 12th 90 participating finalists are competing for 10.910.000 RMB (approx. 1,3 Mio. Euro) price money in front of VIPs (VCs, corporate, science & industry leaders) in several categories. The European finals took place in Munich (IoT Special) and Berlin.
www.greenbox.global/ieic2018/
About Der Deutsche Innovationspreis
Accenture, Daimler, EnBW and WirtschaftsWoche have teamed up for the initiative Der Deutsche Innovationspreis (German innovations award) to honor outstanding, trend-setting innovations of German companies that are transforming business and markets with their innovative power. The prize is awarded in three categories: large companies, SMEs, and start-ups. In addition to product innovations, innovative business models, processes and services as well as organizational and marketing innovations are taken into account. The winners will be announced on April 13, 2018 at the award ceremony in Munich.
www.der-deutsche-innovationspreis.de
Kontakt
R3 Communications GmbH
Bismarckstraße 10-12, 10625 Berlin
Xavier Bush – Marketing Strategist
e-mail: xavier.bush(at)r3coms.com
Mobile: +49 157 363 293 87
www.echoring.com
Related News
EchoRing ™ system convinces the jury in San Francisco
Creathor Venture and IBB Beteiligungsgesellschaft invest in R3 Communications