30. August 2022
Early practice
The start-up codary makes programming child's play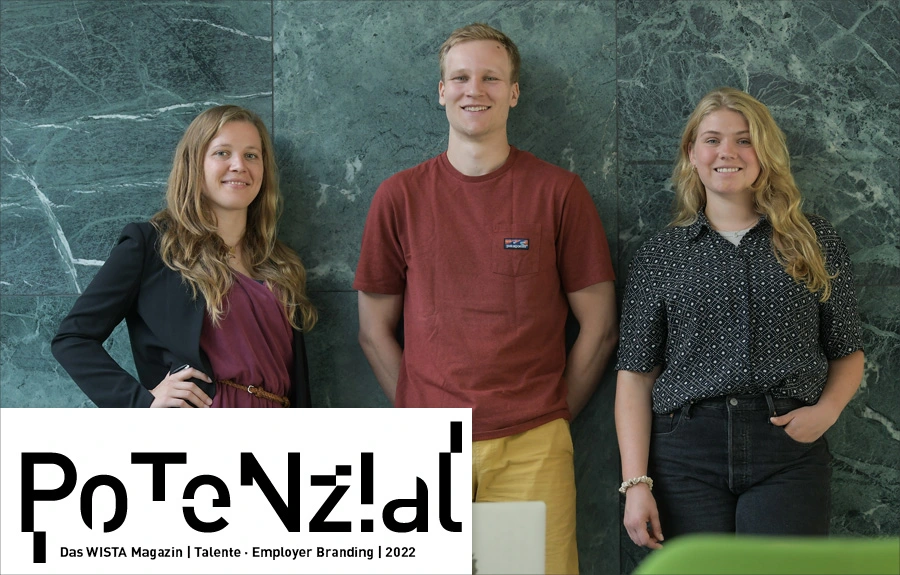 "Programming is a 21st-century skill," say Amanda Maiwald, Nikolaj Bewer and Antonia Schein © WISTA Management GmbH
Computers have become an integral part of our lives. They can be found on our desks, in our pockets, cars, and wrists, and act as televisions and game consoles. The new world is digital. If you know how to code just a little, you can change it according to your own ideas. The team at codary, a young Berlin-based start-up, believes that this skill is part of the basic inventory for young people at the beginning of their professional careers.
Therefore, they are aiming to teach programming to as many children as possible. "We are focusing on children between seven and sixteen," says Amanda Maiwald, who launched codary with two fellow students. "The kids have one hour of programming once a week. This fits neatly into their daily schedules just like piano or guitar lessons." Like with guitar lessons, learning how to code may not last forever. "The kids stick around as long as they enjoy it," says the computer scientist.
Lessons are purely digital and use video chat. The children see each other, inspire each other, and also make friends. The coaches are handpicked, rigorously tested, and work according to agreed-on concepts. The latter is tailored to the respective age groups.
"The youngest children work with blocks. These are prefabricated programme modules that they combine to form a finished programme similar to Lego bricks, which they all know of course," says Maiwald, explaining the concept. "The older ones then learn programming languages like Python and Java Script."
The founders offer their services through various channels. "On the one hand, parents can register their children directly with us," says Amanda Maiwald. "On the other hand, we work with companies that book course time for their employees' children." The founder is certain that this doubles the benefits for the company. "This type of 'childcare' and advanced training binds people to us. At the same time, we contribute to training tomorrow's talents. For the jobs of the future, coding skills are becoming increasingly important.
The young team is not on a mission to turn all children into programming geniuses. More importantly, the founders want them to understand the rules of the digital world. Almost in passing, programming fosters skills that are much more than providing the system with the perfect code. They include logical thinking, visualising the abstract, and encouraging creativity. But also, how to solve problems, work in a team, and realise projects together. "We are focusing on 21st-century skills," says Maiwald. "That and the online-only approach sets us apart from many other education companies on the market."
The computer scientist had the idea for codary while at university. "I asked myself why there are so few women in my computer science courses," she says. "I then found out from my fellow male students that they had all been coding since childhood." She only started doing so while at university and didn't have many opportunities to do so before. Her biggest motivation is to change this for future generations.
Amid the pandemic, Amanda Maiwald then founded her start-up together with Nikolaj Bewer, computer scientist, and marketing expert Antonia Schein. Two years later, the company based at the CHIC Innovation Center in Charlottenburg is already employing 14 people and just as many student trainers. "We have already taught coding to 2,000 children," says Maiwald, proudly. "In addition to the self-programmed learning platform, we have just launched our learning app."
Kai Dürfeld for POTENZIAL
Contact:
codary GmbH
Bismarckstr. 10-12
10625 Berlin
+49 (0) 172 1559 836
hello(at)complori.com
www.complori.com
Potenzial – The WISTA Magazine. Issue: Talents · Employer Branding / September 2022