25. June 2019
From research into practice
Numerous spin-offs of FBH and BAM prove how cooperation is boosted in Adlershof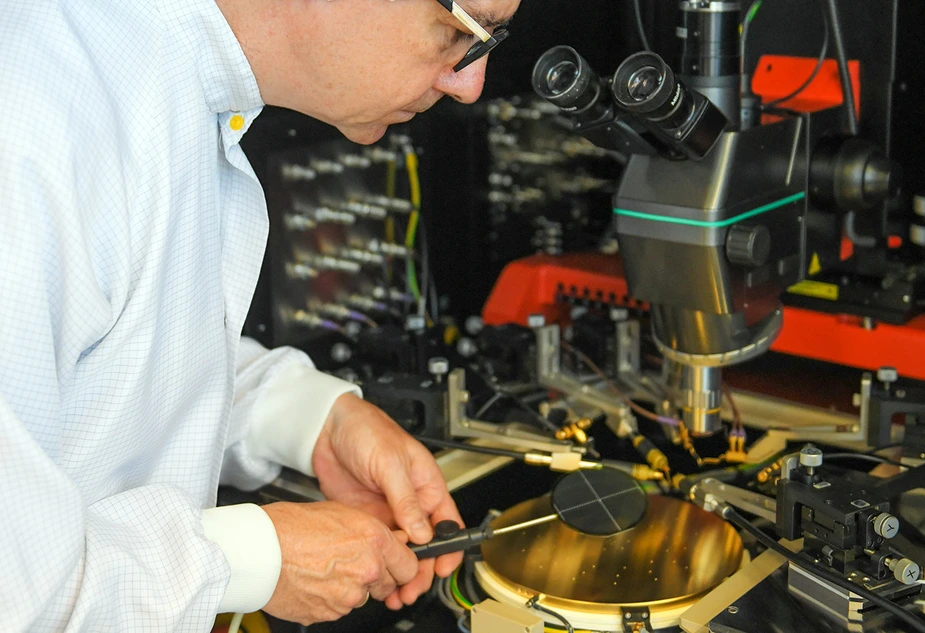 Olaf Krüger (FBH) during the final inspection of a wafer with chips for the detection of UV radiation. Credit: WISTA Management GmbH
Laser, proteins, plasma – every day a vast network of scientists works to advance research of new and improved products for the benefit of society. Cooperating with the private sector can prove essential for research to come into practice. Adlershof's strong suit is to boost such cooperation.
Olaf Krüger, head of process technology at FBH, the Ferdinand-Braun-Institut, Leibniz-Institut für Höchstfrequenztechnik, knows: 'We are in a comfortable situation where companies usually approach us.' The FBH develops high-brilliance diode lasers, UV light diodes, hybrid laser systems as well as electronic components and circuitry in the micro and millimetre-wave scale. It also has an enterprising director who builds bridges between science and the industry. Cooperation is facilitated by the FBH's application-oriented research.
One of the companies that came out of FBH is JENOPTIK Diode Lab, a manufacturer of laser diodes, which is headquartered only a 200-metre beeline away from the institute. Others include BeamXpert, BEAPLAS GmbH, BFB Brilliance Fab Berlin, UVphotonics NT, and eagleyard Photonics. The latter buy their components from FBH. Chips as small as a grain of sand are mounted, characterised, and then integrated into electronics. They are sold as pre-fabricated laser diodes for application in, for example, metrology and medical technology.
sglux SolGel Technologies GmbH produces measurement systems for UV radiation. In 2008, the company's CEO approached the FBH because his previous supplier from the US had discontinued sales. Since then, the FBH has been supplying company with the valuable chips. Krüger: 'At that time, we were developing those components in cooperation with the Leibniz-Institute for Crystal Growth. Today, we buy the discs containing the crystalline layers and run them through our cleanroom before turning them into complete components.' At sglux, the chips are integrated into measurement systems and, for example, help measure UV radiation for medical purposes. Other applications include monitoring the UV dose for the sanitation of water, because UV radiation kills microorganisms. This has been so successful that the company's revenues and staff have been experiencing steady growth. It also opened its own production building at Technology Park Adlershof.
With its 300 employees – mostly physicists, electric engineers, chemists, technicians, and lab assistants – the FBH can provide year-round while simultaneously cooperating with more than 50 companies, including Bosch, Infineon Technologies, and Trumpf, on a regular basis. The institute has a range of cleanrooms, the largest one measuring about 1,000 square metres. Temperature, humidity, and dust concentration are regulated meticulously. 'We have a diverse range of devices and can produce structure on the micrometre and nanometre-scale. Much of this is the result of years of research. Most customers cannot build this kind of expertise, so they come to us,' says Krüger.
The situation is similar at BAM, the Federal Institute for Materials Research and Testing. Its consulting and application expertise on quality management systems, hazard assessment, and dealing with hazardous materials as well as its outstanding equipment and labs make it stand out from the crowd. This is but one of the aspects of the excellent conditions that brought the start-up Belyntic to Adlershof. BAM is helping them to bring their idea to the market.
Hagen Saxowski, head of the section Research Services at BAM, co-founded an initiative called 'BAMStartup Slingshot'. Saxowski: 'This programme is directed at spin-offs from BAM. However, other research-based start-ups, for example, Belyntic, a spin-off from Humboldt-Universität, will also benefit from it.' Belyntic's researchers are currently thinking up ideas on producing peptides. These are proteins with important biological functions, including anti-inflammatory and sanitising properties.
Most of BAM's support to external founders goes to start-ups from chemistry, materials sciences, and materials technology. Saxowski: 'We want to support start-ups that match our orientation.'
Saxowski and his colleagues have been acquiring additional funding for BAM spin-offs. 'One of the most beautiful forms of technology transfer is when research findings lead to spin-offs producing market-ready solutions,' he says. BAM has produced eight spin-offs since 2012, but it also cooperates with existing companies ranging from small firms to global corporations. Currently, the institute is planning to create an industry and technology campus in Berlin-Siemensstadt in cooperation with Siemens AG, the Fraunhofer Society and the Technical University Berlin.
By Kathrin Reisinger for Adlershof Journal
Related News
Related Institutions